I recently visited Australia and New Zealand to check out some new locations for Pickleball Trips. Because Australia and New Zealand are consistently the most requested new location, I wanted to travel there, check out the pickleball scene, and find some unique activities.
Australia
I stayed in Gold Coast during my time in Australia. I had heard that Queensland was the pickleball hub of Australia, so I thought our pickleball trip would center around that area. I was certainly not disappointed. Martin Clark, an Australian doctor, offered to let me stay at his house and do clinics there. He has built one indoor pickleball court and is making another outdoor court at his home. The view from the courts and infinity pool is like a painting. He bought the property specifically to build his pickleball paradise there and was kind enough to let me stay the whole time. Pickleball addition is not unique to the United States.
They happened to be running the River City Open in Brisbane while I was there, so I teamed up with an American pickleball coach and an Australian girl to play two events. I got the gold in men's doubles and the silver in mixed doubles, so it was a successful haul. I also heard about a fun tournament called Slam Jam, which is an annual event in Australia. It's a party atmosphere, and they are talking about putting one on during our pickleball trip. It will be a fantastic opportunity to meet and play with local players and see Australian hospitality.
Besides pickleball, Australia is just a beautiful country. I visited Byron Bay, Surfer's paradise, and Burleigh Beach, to name just a few. I can't wait to explore more and bring you to some of these beautiful destinations.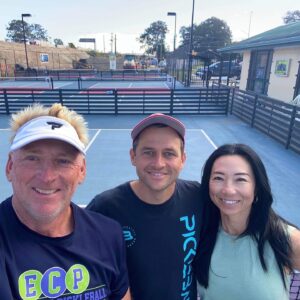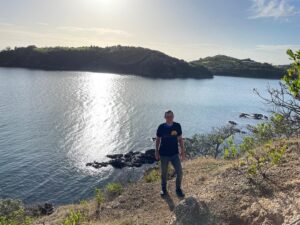 New Zealand
Jai Grewal offered to take me around New Zealand and scout locations for clinics. He will probably act as our local guide/instructor on the New Zealand portion of the trips.
The highlights of the New Zealand trip included Waiheke Island, Hawkes Bay, and Wellington. Waiheke is famous for its wineries. It's an hour ferry from Auckland, and a hop-on-hop-off bus takes you to all the significant spots. After lunch, we slept on the ferry home. I think New Zealand might be the only place that lets you do archery after winery tours.
This area has the only dedicated public courts in New Zealand, so we made sure to do a clinic. It's also famous for wine and scenery. So we did a clinic, went to dinner, and watched a rugby game.
We visited Wellington, where Jai and his fiancee live. Wellington reminded me of a smaller San Francisco. The water is visible everywhere, and everything is on a hill. After another clinic, hiking, and craft brewery tour, it was time to leave New Zealand and return home to Japan.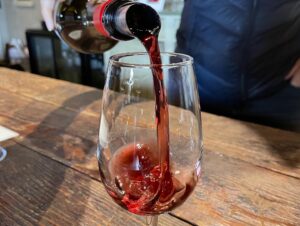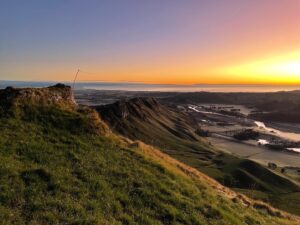 Please stay tuned and check out pickleballtrips.com for more information coming soon about the Australia/New Zealand pickleball trips!